This window is titled "Princess Tarnia".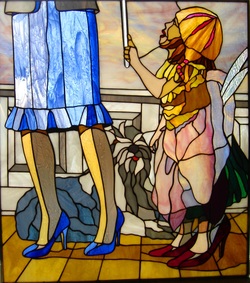 This is one of my favorite windows. My granddaughter, Tarnia, loved to play dress up and pretend she was a princess when she was a little girl. Some of her costumes were quite remarkable. A picture I saw in an advertisement reminded me of those days so I duplicated it in stained glass. She is holding her magic wand in her hand but the star at the top is cut off in this picture. Our trusty Old English Sheepdog, Samantha, lies on the ground, waiting for a morsel of food to fall within reach of her quick tongue.

This window won first place and the Kokomo Opalescent Glass Company award in the 2010 Minnesota State Fair competition. It measures approximately 24" x 24".
---
About the artist: I have lived in central Minnesota all my life. I developed a fascination with stained glass in 1975 which developed into an obsession. Besides stained glass, I enjoy watching and participating in NHRA drag racing plus I enjoy other forms of auto racing. It gets cold in Minnesota so in the winter I have taken up and learned about the joys of snowmobiling. There is nothing quite like getting on the machine when its below zero outside and going for a good long run on the Minnesota snowmobile trails. I also like to follow the Minnesota Twins, Minnesota Vikings, Minnesota Wild and the local high school sports teams. In the summer, I enjoy visiting the Minnesota State Parks with my family (especially along Lake Superior in northeastern Minnesota).